Wafeq is made for accountants
A modern accounting software designed for

accountants
Wafeq is built to
get things done 2x faster
4.8 average rating from our customers
Trusted by more than 5000 companies in

all industry sectors
A complete software to

run your business better
Whether you've just started or are already established, you'll find all the features you need at each stage of your business.
Purchases & Claims
Manage bills, purchase orders and expenses from one place
Payroll & Employees
Run payroll and invite employees to submit their expense claims.
VAT Return
No need for an accountant – let Wafeq automatically generate your VAT return for you
Inventory tracking
Easily keep track of stock levels and let Wafeq automatically book your Cost of Goods
Customers & Suppliers
Always know who you owe money to and who owes you money
Reports & Insights
Generate single or consolidated reports for a holistic view of your finances.
That's why we built Wafeq to be the fastest accounting software you'll ever experience. Read on about how Wafeq innovates the way you work. Sheet View
Excel-like

bulk updating you're familiar with

With Sheet View, say goodbye to tedious updates. This power feature allows you to update multiple fields by simply dragging cells or copying / pasting, just like you do in Excel.

Once you experience it, you'll wonder how you lived without it.

Need to reclassify software expenses as subscription expenses? Easily do it in Sheet View in one go.
consolidation across organizations
Consolidated

Financial statements

Consolidating financial statements manually is a big hassle. With Wafeq, you can do it with a single click, even if organizations have different functional currencies.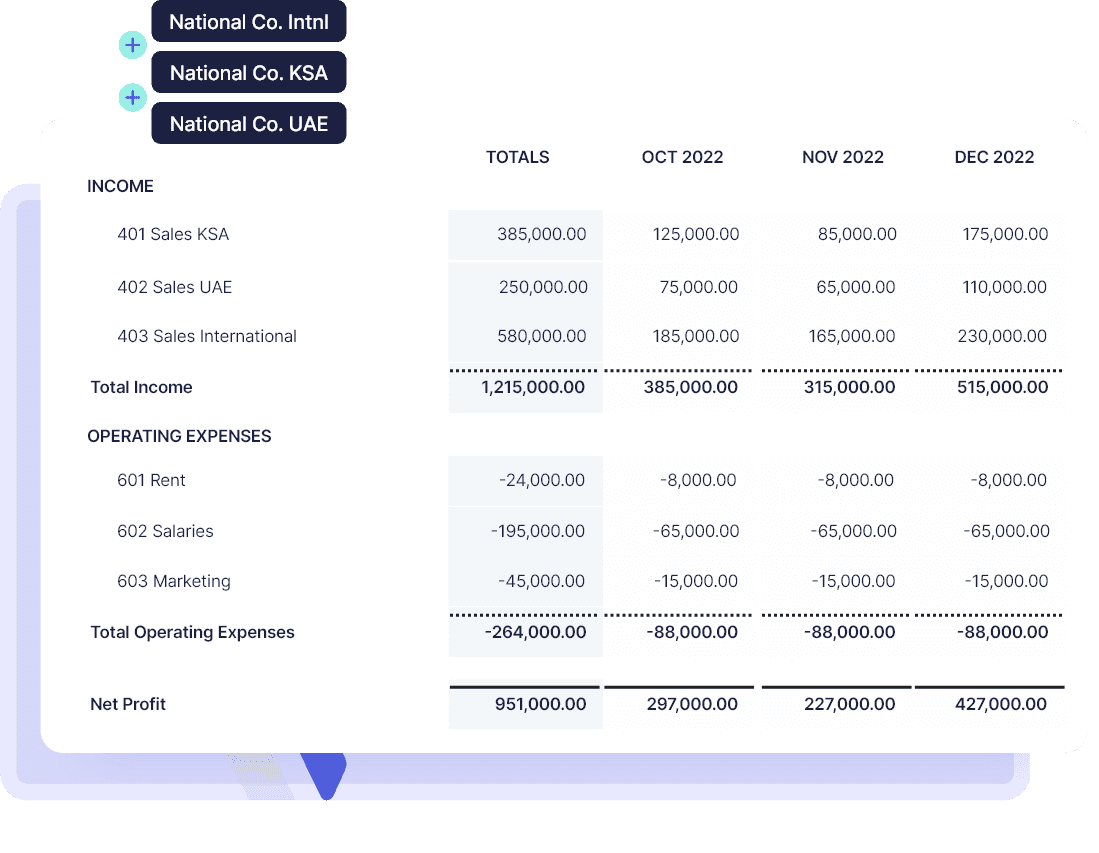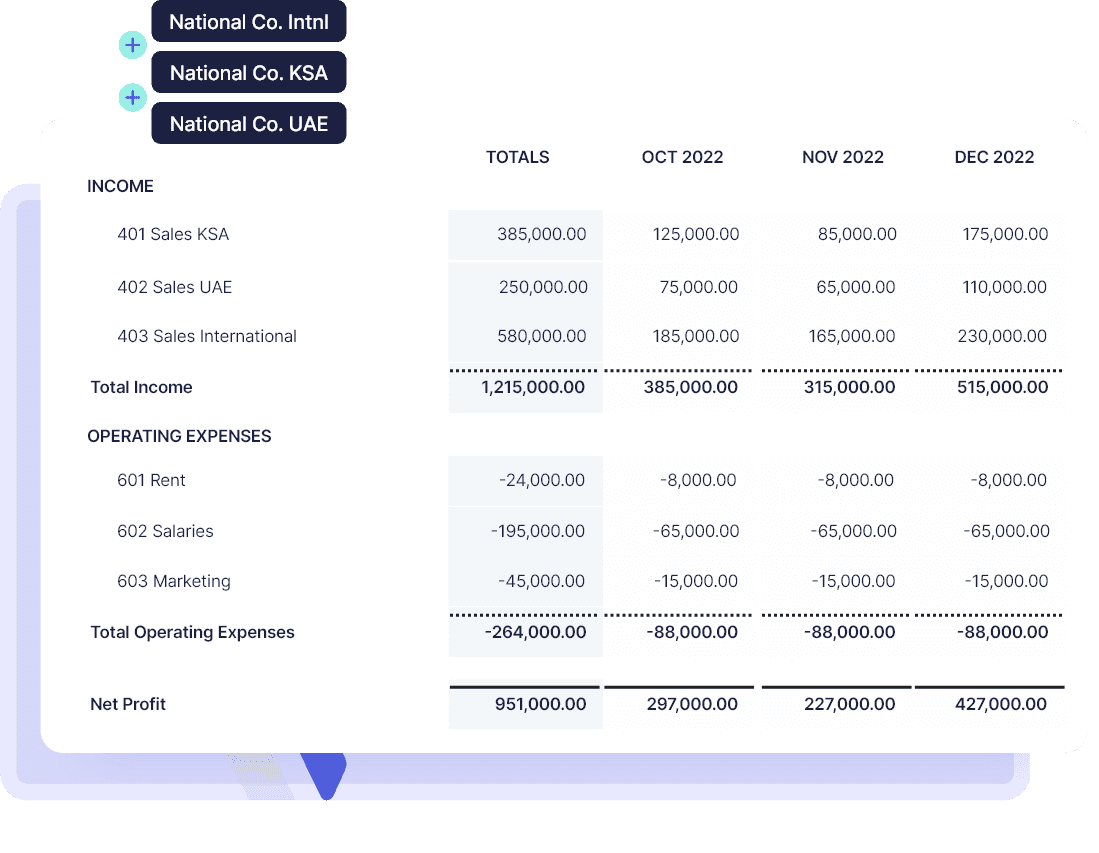 multiple clients = multiple tabs
Concurrent

multi-client management

With concurrent multi-client management, you can seamlessly manage different clients in multiple tabs.

No more complicated login and logout cycle: focus on what really matters – providing exceptional service to your clients.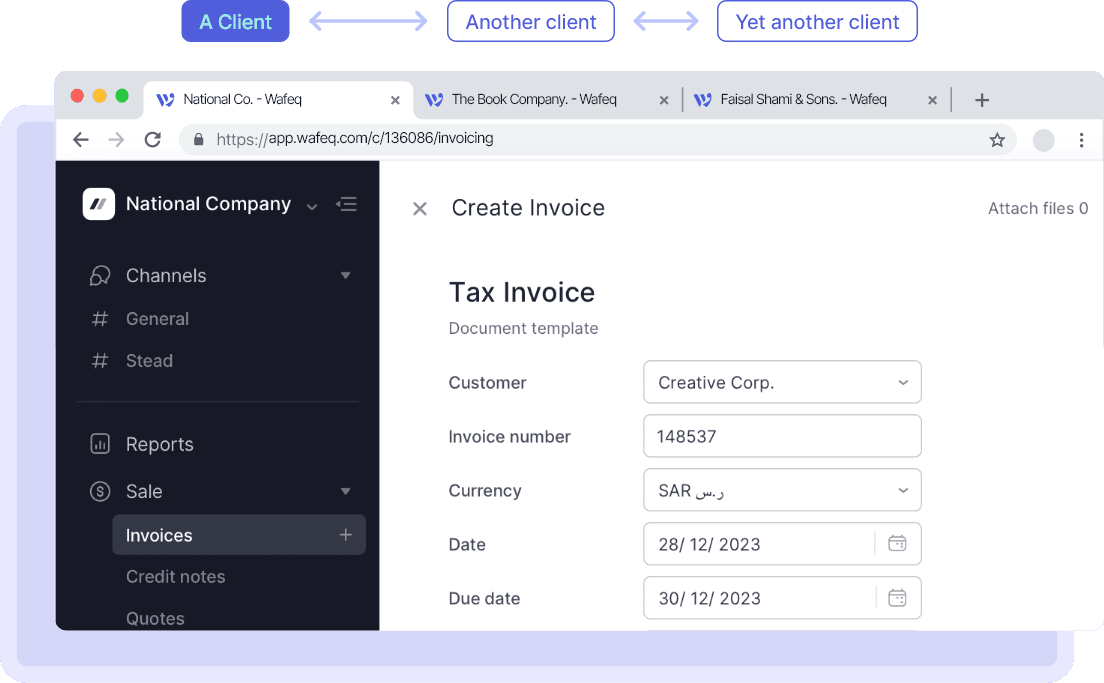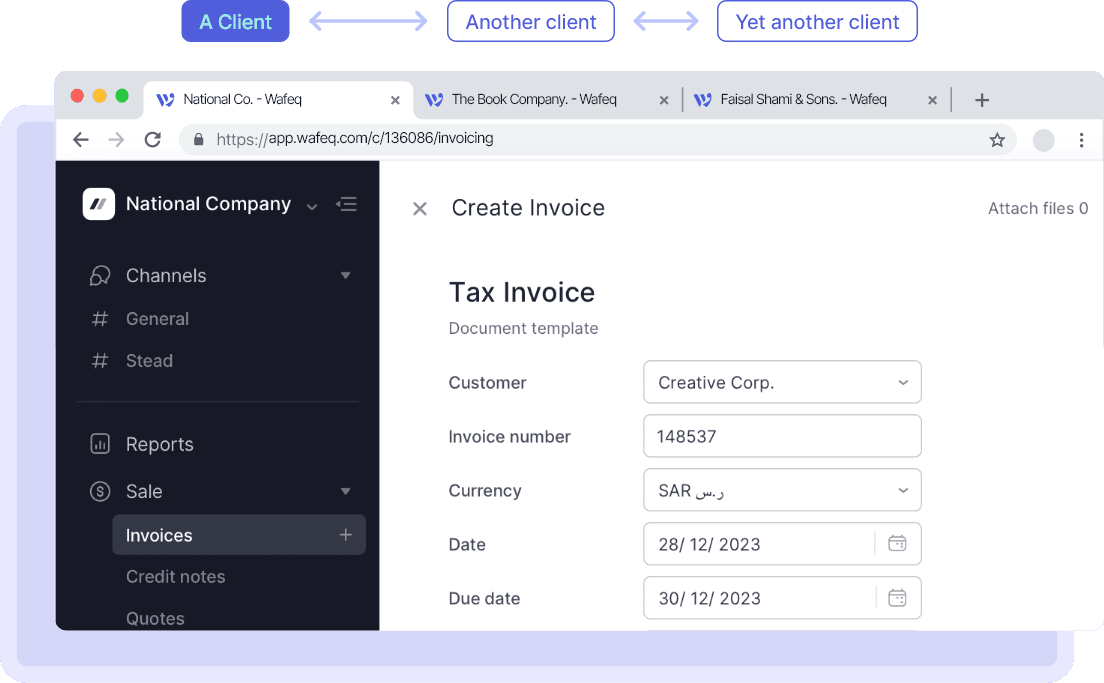 Advanced Features
Control at a
granular

level
Wafeq comes with dozens of other features that will streamline your accounting workflow.
Multi-currency reporting

Generate your reports in any currency you want. Wafeq internally keeps tracks of all historical exchange rates.

Bank reconciliation report

Your reconciliation doesn't add up? Our Bank Reconciliation Report helps you quickly identify the issue to get your balances back in order.

Reports by branch, cost center or project

Get total control over your reporting by generating reports by branches, cost centers or projects in addition to organization and multi-organization consolidated reporting.

Audit Trail

Track all activity with a complete history log. See who did what, and when, at any given moment. Stay informed and in control with ease.

Create subaccounts in chart of accounts

Organize your reporting with subaccounts to keep the most important accounts at the top level.

Fixed assets depreciation

Register fixed assets and let Wafeq automatically book depreciation.
Fast Bank Reconciliation
Bank reconciliation is
10x faster

with Wafeq

Bank reconciliation is one of the most time consuming tasks when closing your books – but not with Wafeq.

Easily bulk-categorize similar transactions, or let Wafeq auto-suggest the closest matching transactions in your ledger.
Free For Accounting Firms
Are you an accounting firm? Get a
free Premium account

for your own books

Accounting firms get a Free Premium account for their own bookkeeping and a dedicated Wafeq account manager to help you get started with ease.